Pop in for a few hours of creativity and fun.
Participate in a scheduled class AND spend some time at the fabric dye and paint open studio and demos.
Book a 3 hour session or stay for the entire day (see rates below).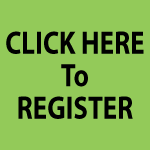 Create your own homemade gifts and holiday decorations this year.
Christmas crafts and fun-to-make projects.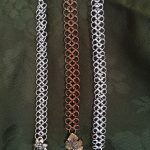 Chain Maille Bracelets
From the era of Knights in shining armor to delicate strands shining on our arms, here's your chance to create your own Chain Maille jewellery. The class will offer instruction of the basic techniques used in Chain Maille weaving, and the pattern known as European 4-in-1. The class includes coloured rings and clasps for your selection. The required tools will be provided for your use.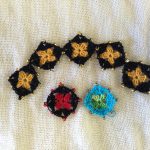 Granny Square Bracelets
Join us where tradition meets traditional! The Granny Square done in delicate Thread Crochet will make a beautiful gift for someone special. The bracelet consists of Mini-Granny Squares with beaded edges. The class includes a variety of thread choices and coordinating beads. The required tools will be provided for your use.
Fabric Dyeing and Painting Open Studio
Fabric dyeing and printing demonstrations will be ongoing throughout the weekend sessions. All levels of experience welcome.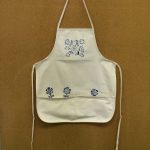 Stamp and Stencil an Apron or Tote Bag
Learn the basics of applying paint to fabric. Different applications, including brushes, sponges, stamping and stencilling will be explored in this introductory demonstration. Choose your favourite methods and create a painted tote-bag or apron.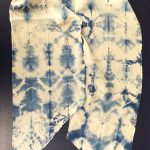 Indigo Dyed Textiles
The indigo dye pot will available for use throughout the weekend. Using simple tie-die and shibori techniques, create beautiful blue and white designs on table linens, silk scarves and clothing. You can bring in your own light coloured t-shirts and linens to dye or purchase new items from the instructor.
Silk Painted Cards
Painting on silk can create beautiful images that can look like watercolour paintings or stained glass windows. Using the technique and design of your choice, silk paint holiday themes to create stunning and original gift cards for the season.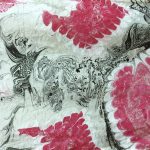 Marbled Silk Scarves
Watch the dye magic happen before your very eyes! Create colourful patterns on silk using dyes and bases specifically made for marbling fabric. After experimenting and sampling techniques with smaller pieces of silk that you can use to make gift cards, you can dye a large rectangular or square silk scarf.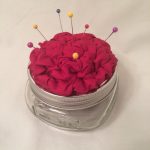 Furrowed Pin Cushion Jar
Furrowing is a surface design and quilting technique that creates beautiful texture on fabrics. Using luscious silk, learn how to stitch this beautiful technique on the top of a Mason jar lid. The furrowed fabric makes the perfect pin cushion, while the wide mouth jar holds your pins. A unique gift for a stitcher!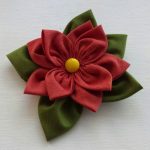 Kanzashi Poinsettias
Kanzashi is an ancient Japanese ornamental fabric flower technique. In this class you'll learn traditional folding and construction techniques using silk fabrics to create poinsettias, the classic Christmas flower!
You can make your Kanzashi Poinsettia into a decoration for a tree or wall, or even a brooch or hairclip.
You will leave class with one Kanzashi Poinsettia and paper patterns/templates for future flower making.
Tatted Snowflakes
Needle tatting is a technique for handcrafting a particularly durable lace from a series of knots and loops. It's an age-old technique that many of our grandmothers and great-grandmothers practiced, and like many handcrafts, is not widely used or recognized anymore.
Come learn this beautiful art. Tatting is a great way to make small ornaments or lace edging for linens and garments.
We will look at both classic and contemporary patterning, and will each make a sweet, simple snowflake!
The Littlest Felt Matryoshka
The little felt matryoshka dolls are charming and fun to make. Inspired by the Russian stacking dolls, these wee dollies can be personalized with a birth-month flower on their bellies or something meaningful to the recipient.
We'll work with beautifully textured wool felt in strong colours to fashion our unique little matryoshkas. When completed, the dolls can be used as decorations or brooches.
Learn basic embroidery stitches such as blanket stitch, stem stitch, satin stitch and french knots as we create hair, eyes and decorative elements on our tiny dolls.
You will leave class with one little felt matryoshka dolly, and a paper pattern for future doll-making.