for immediate release
November 10, 2016
Blyth 14/19 Inc. Choose Award-Winning Architect
Dubbeldam Architecture and Design to design home of the CCRC
Blyth Arts & Cultural Initiative 14/19 Inc. took another giant leap forward this week in their plan to create a new hub of creativity, innovation and entrepreneurship for the local and national communities by engaging a high profile architect to design the Grant & Mildred Sparling Centre, home of the Canadian Centre for Rural Creativity.
Heather Dubbeldam of Dubbeldam Architecture and Design is a Toronto-based architect and designer who comes by her professional passion for modern architecture honestly; as a fourth generation architect, Heather carries on the modernist approach of her Dutch lineage.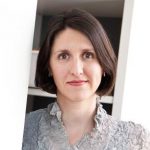 Heather is known for exacting standards in design, detailing and execution of her firm's projects, her integrity in business, and her dedication to volunteer and leadership work in the profession. She is a licensed architect with the Ontario Association of Architects (OAA) and a Fellow of the Royal Architectural Institute of Canada (FRAIC). Heather promotes a long term vision toward environmental sustainability and a commitment to incorporating sustainable design and systems into her firm's projects. She is a LEED Accredited Professional and a member of both Sustainable Buildings Canada and the Canada Green Building Council.
… to spark creativity and inspire the people
"Our community has an extraordinary opportunity to design and build an exceptional rural community centre that is unique in Canada," says Project Director, Peter Smith. "We'll work with Dubbeldam and her consultant team, which includes some leading firms in Ontario, to ensure that the Grant and Mildred Sparling Centre builds upon the rich history and strong community spirit of Blyth and achieves excellence in community development and design."
Heather Dubbledam will assist Blyth 14/19 Inc to position Blyth as a model for rural communities throughout the country, where artists, entrepreneurs, innovators and students will come together to be inspired.
For more information visit: www.blyth1419.ca
-30-
Contact:
Karen Stewart, Director of Operations
226-523-1419