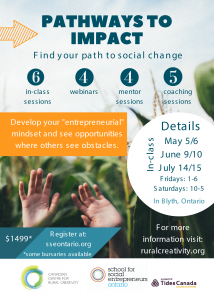 Social Intrapreneurs Finding Paths to Social Change in Rural Ontario
CCRC recruiting youth and professionals in non-profits and businesses in Huron/Perth
The Canadian Centre for Rural Creativity is hosting a new program designed for social change agents living and/or working in Huron and Perth Counties. Pathways to Impact (P2I) is a program offered by the internationally-acclaimed, award-winning School for Social Entrepreneurs (SSE).

The program includes 6 in-class sessions, 4 webinars, 4 mentor sessions and 4 coaching sessions, beginning May 5 in Blyth. The participants will be inspired by working social entrepreneurs and intrapreneurs, and develop an"entrepreneurial" mindset to see opportunities where others see obstacles. A Social Intrapreneurial Fellowship certification will be awarded to those successfully completing the program, linking these emerging leaders to other disruptive thinkers globally.
"These life-skills are vital in today's competitive workplace," says Peter Smith, Project Director of Blyth 14/19. "The participants will be impacted by some of the most inspiring leaders in Huron/Perth as they embrace the opportunity to take their professional contributions to the next level."
P2I includes:
A self-directed, and creative learning environment;
In-person sessions with experienced social innovators to learn about topics like social impact, human-centred design (a problem-solving technique that ends with new solutions that are tailor-made to suit unique needs), systems thinking, and innovative business models.
Personalized coaching to help tackle complex problems through a hallmark Action Learning approach; and,
A dynamic network of fellow social innovators in Canada and around the globe through the SSE alumni community and through involvement in the League of Intrapreneurs.
Links to register and more information about this program are available at www.ruralcreativity.org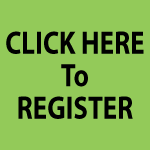 Contact:
Karen Stewart, Director of Operations
Blyth 14/19 Inc.
519-441-7629 / karen@blyth1419.ca