R2R20 schedule at a lingering glance…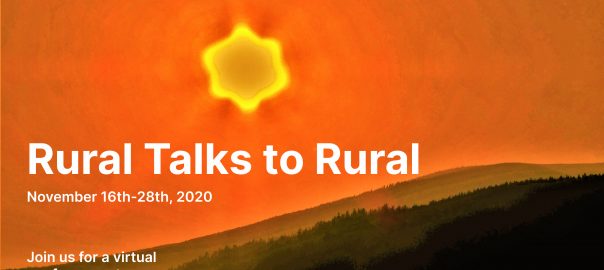 RURAL TALKS TO RURAL 2020 – A VIRTUAL CONFERENCE- Co-produced by the CCRC and Goderich to Guelph Rail Trail Inc. runs NOVEMBER 16-28, 2020 – to register and for a more detailed schedule of guests, events go to: r2r2020.eventbrite.ca
R2R began with a conversation wondering what a conference would look like with rural people talking to other rural people about what was going on in their community. From that conversation it has grown from a local event to an international one – with rural people coming in from around the corner and from the world to share ideas and deepen the conversation on and about rural.
What's happening at R2R20?
'This Rural Life' – is a noon hour session – noon-1pm ET (reminiscent of the Farm Radio Forum) and will run weekdays during the conference with folks from across Canada talking arts, local government, entrepreneurship, the future of rural tourism, the necessity of rural broadband, and there will be sessions on agriculture, wellness, and rural media.
The Evening Panels run between 6.30-8.30pm ET and will include workshops, a story circle, rural research from across Canada and the globe, what's going on with agricultural technology and investment. We will take a look at the challenges and opportunities of the gig economy, explore Food Security, and the impact of COVID on our health care workers. There will also be a discussion following a presentation by the University of Guelph on an extensive Huron/Perth Covid survey. What's happening with AI and our connection to technology is on the R2R menu in two workshops, and there is a panel looking at wicked problems, and a crowd taking a run at the future of rural.
LIBRO SATURDAY – November 28th – 9am-1.30pm ET is a half-day about community/environment/climate action.
VALUE ADD:+ END OF THE LANE CONVERSATIONS- 2-3 minute videos from Canadians living in this unique time answering the questions: how are you now? And what does the future look like to you? Videos available to delegates for the run of R2R20 leading to the Libro People's Awards on Nov. 28.
+ TWO COAST TO COAST VIRTUAL ART GALLERIES: ENDS OF THE EARTH from ArtWorks/Mulgrave Road Theatre in Guysborough, Nova Scotia, and I'LL TELL YOU THE REST LATER with images from the interior of BC featuring the work of playwright/photographer Kelly Rebar will also be on display. We are using one of Kelly's photographs as our R2R20 image.
+ THE FRIDAY SHINDIG – November 27th – hosted by our good friends at Cowbell Brewery is a time to network while enjoying a beverage – maybe listen to some music – and perhaps you might want to step up at the SPEAKER'S CORNER to talk about your experience at R2R20 – what thoughts you have for us moving forward.
+ THE VIRTUAL COMMUNITY LUNCH on November 28th – recipe and how-to video provided by Chef James Eddington of Eddington's of Exeter will close R2R20.
Lots going on, with plenty of insightful guests and ALL ARE WELCOME. r2r2020.eventbrite.ca