Top 10 reasons to attend R2R Conference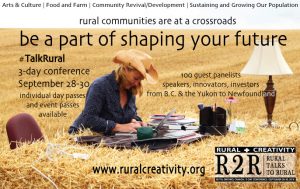 1. Talk Rural – Join Canadian ruralists, from farmers and artists to healthcare providers and community builders, for this unique opportunity to discuss solutions to rural issues and challenges. Learn more.
2. Keynote Speakers and Expert Presenters – Connect with more than 60 speakers and presenters who will share their expertise on topics in arts & culture, food & farm, community revival & development, and sustaining & growing rural populations. Meet our keynotes and presenters confirmed to date.
3. Arts & Culture – Learn how to give voice to our rural stories and how the way telling these stories is evolving. Also explore fibre arts through panel discussions and hands-on activities. Click here for full agenda
4. Food & Farm – Hear from rural experts on how to create jobs through processing local food and farm products, how to overcome road blocks on the way to market, how to raise capital for your business venture, and more. Click here for full agenda
5. Community Revival/Development – Community revitalization, building vibrant rural communities, and reimagining rural tourism lead the topics discussed in this learning stream. Click here for full agenda
6. Sustaining and Growing our Population – Are we prepared for new Canadians? How do we engage, support and retain our youth population? How do rural communities achieve their goals for growth and development while maintaining their distinctive rural character? Join our guest speakers for discussions on these questions and more. Click here for full agenda
7. The Pitch/The Catch – Support rural innovators as they take to the stage to pitch their best business ideas to a handful of catchers eager to invest in growing the local economy. Learn more
8. The Food – September is harvest time in Huron County and we will bring together our top chefs who will feature the best food the county has to offer. Click here for full agenda
9. Kitchen Table Conversations – Great ideas often come from conversations had around a kitchen table. Kitchen tables will be found throughout the conference to provide a spot to delegates to informally discuss innovative solutions to the challenges facing rural communities. Do you have a kitchen table to share?
10. Rural Fun – Rural folks know how to have a good time and we've made lots of room in the conference agenda for delegates to do just that. We will feature local entertainment alongside a good old-fashioned pig roast and bonfire complete with s'mores. Click here for full agenda