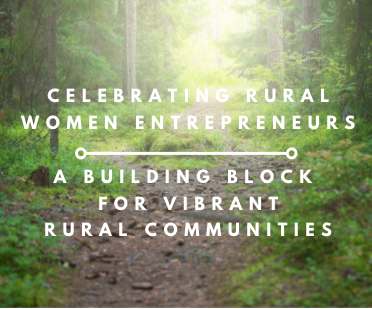 The Canadian Centre for Rural Creativity (CCRC) is launching RADICLE, the Rural Women Entrepreneur (RWE) podcast to celebrate and showcase incredible entrepreneurial women across the country and throughout the world who are taking steps toward radical change.
Radical change tackles critical social, environmental, and economic challenges, stemming from existing and pervasive structures and systems. Radical change is required when we understand our responsibility for a healthy planet for future generations. We are charged with this legacy.
Rural women entrepreneurs are at the forefront of this legacy by seeing, being, and doing things differently. The majority of women-owned businesses are directly or intuitively based on a social enterprise model. A social enterprise creates economic wealth directed toward social and environmental change, with a focus on supporting sustainable and healthy communities. It pursues and practices radical change. It is happening in our rural areas.
RADICLE, the RWE podcast shares diverse stories, lessons, opportunities, and challenges by women, for women seeking radical change.
Exploring Radical Change
Friday, October 15th @ 12pmET
Listen to the episode HERE!
Join us for the launch of RADICAL! This episode will explore radical change which is one of the foundational pillars of CCRC and an underlying theme of the podcast.
Radical change is key to dismantling current systems to bolster and strengthen social movements that seek to transform traditional structures to foster an environment for innovation to flourish. Swift action is needed to tackle deeply systemic challenges and wicked problems.