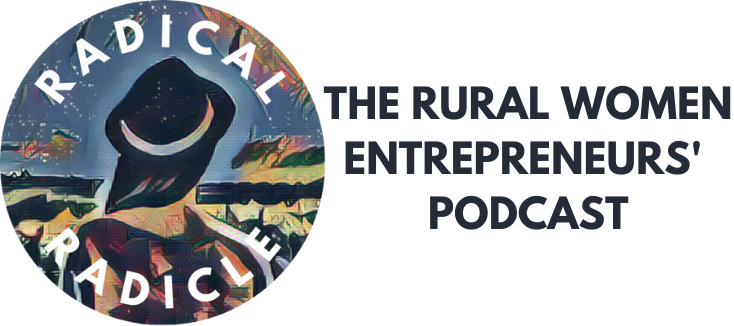 RADICAL: The Rural Women Entrepreneurs' Podcast (RADICAL) is produced by Casandra Bryant and hosted by the Canadian Centre for Rural Creativity (CCRC). This live and interactive broadcast to podcast is offered once a month October through May having launched on October 15th, 2021. Each podcast invites two to three rural women entrepreneurs to the table to discuss the topic at hand.
First podcast Oct 15, 2021: What is Radical Change?
Second podcast January 12, 2022: Social Entrepreneurship
Learn more about our guests and producer

WHAT AND WHO?
RADICAL celebrates rural women entrepreneurs across the country and throughout the world. Women who are taking steps toward radical change. What is radical change? For us, radical change tackles critical social, environmental, and economic challenges, stemming from existing and pervasive structures and systems. Radical change is required when we understand the responsibility to ourselves, others, and the planet. It's working toward a legacy for future generations.
Rural women entrepreneurs are at the forefront of this legacy by seeing, being, and doing things differently. RADICAL shares diverse stories, lessons, opportunities, and challenges by women, for women seeking radical change. It is about creating space for dialogue. It explores the practical, wrestles big questions, and is a source of inspiration. Check out the first podcast that tackles the idea of radical change.
WHY RADICAL AND RADICLE?
Have you checked out our logo? We launched as RADICAL but are now RADICAL and RADICLE. This evolution was inspired by the first podcast with guest speaker, Carlene Schneider, Director of Development at Green Hectares when she introduced the notion of radical as radicle.
As Wikipedia explains, radicle is a botany term. The radicle is the first part of a seedling to emerge during the process of germination. It is the embryonic root of the plant, and grows downward in the soil, into the darkness and it determines the plant's growth into the light taking all factors below and above the soil into consideration.
A wise person once said a seed has to be planted in the darkness in order to grow into the light. As humans, our seeds are planted within. The dance between the darkness and the light helps the seed grow. Yet we tend to spend our energy only to dance in the light as we fear and shy away from the darkness. We have to remember that it is within the darkness that light grows, in different ways and illuminates new paths.
Another wise person also shared that this seed within is our purpose in this life and is planted when we're born. We can nurture this seed into a fulfilling and beautiful life (not without its challenges; its darkness!) or we can ignore it and leave it to die. If the seed dies, the light dies within.
We thought this as a beautiful analogy of RADICAL where we explore rural woman entrepreneurship and radical change through meaningful questions and with incredible women here in Canada and around the globe. Radical change has been sown and is very much in the process of germination. This podcast, as a platform for dialogue, is one among many initiatives taking root for radical change.