This is an info/workshop where we will explore various ideas and techniques to help you create a square to add to our quilt celebrating the Grand River
This is your opportunity, anything goes! The only limitation is a 10X10-inch square and your imagination.
Bring your own material or use the material provided. All skill levels are welcome!
About the Project
We are inviting interested fabric artists and craftspeople to participate in creating a quilt celebrating the Grand River.
This is part of a larger, three-year project that invites people in communities all along the Grand River to be part of a 310 Kilometer performance. Sponsored by the Centre for Rural Creativity in Blyth, Ontario, our group has been meeting with people who live along the river to make music, sing, tell stories and create artwork, such as this quilt, that expresses our interconnected relationship with the Grand.
Last year, we created performances at Chiefswood Park on Six Nations territory in Ohsweken and in Waterloo at Abraham Erb's Gristmill. This year we will be connecting with many more communities leading to a series of performances at the end of the summer and, ultimately, performances all along the river in August 2024. The quilt we create will be part displayed at these performances and become a record of our memories, stories and relationship to the river.
The Process
Anyone who is interested can participate in this. There are no rules for creating a square aside from a final size of 10 x 10 inches. Any approach is welcome (sewing, painting, applique, felting etc), and we encourage experimentation and creativity. The most important thing is that each square should tell your story or depict your relationship to the river. Rather than a traditional rectangular quilt, each of your squares will be tied together to create the shape of the river and be displayed with a map of the Grand River watershed identifying where each square came from. We will also display a matching "quilt" of your stories about each square.
Anyone interested is welcome to contact us for details. We are also conducting a series of free information sessions/workshops this summer: one in St. Jacobs July 29th and one in Guelph August 20th. Additional workshops will be organized for the fall.
If you are interested in this project, please contact Pat Flood pflood@uoguelph.ca more information.
Some images of quilt squares already started for the project: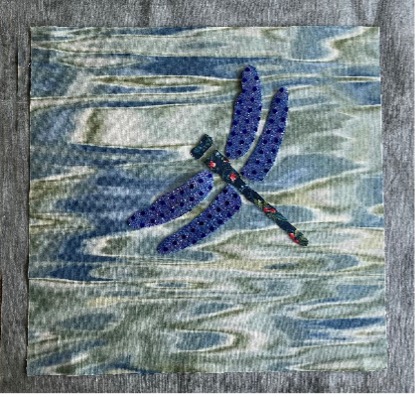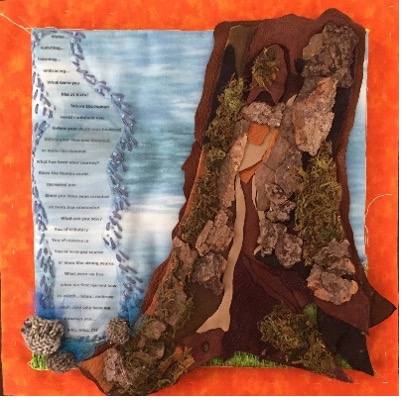 About Pat Flood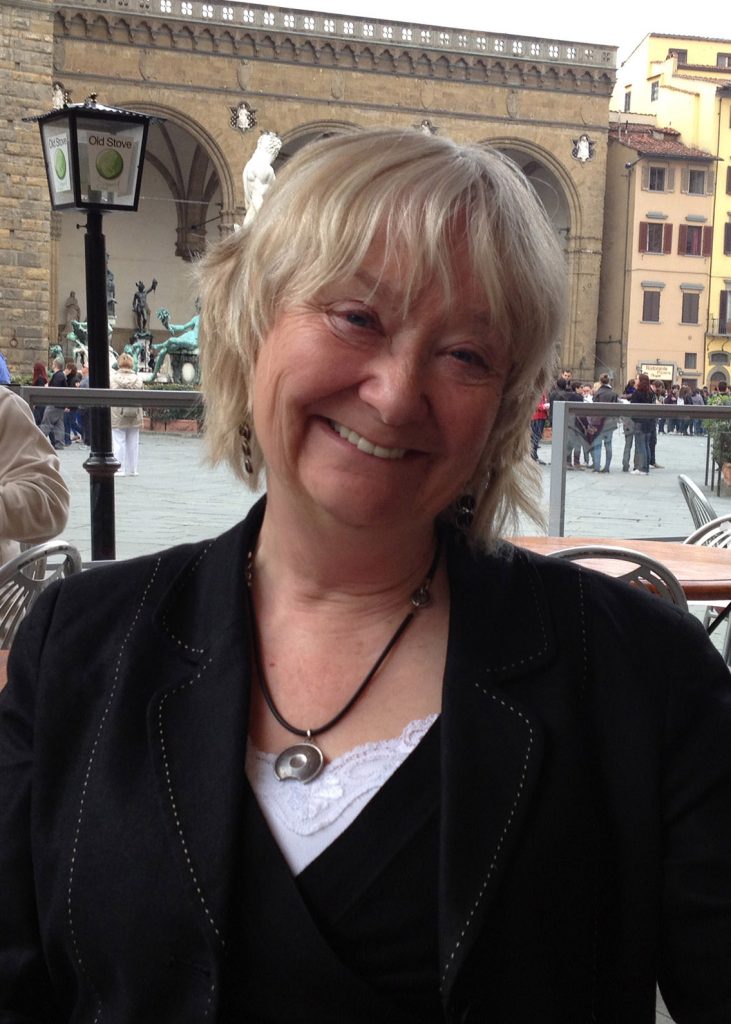 Patricia Flood is a theatre, film and television designer and a past President of the
Associated Designers of Canada. Her credits include Set Design for the films Ararat and
Where the Truth Lies, directed by Atom Egoyan; Art Director for The Kids in the Hall
television series; Resident Designer for Theatre Calgary; and many seasons at the Blyth
Festival in Blyth, Ontario.
She worked as Assistant to the Head of Design (Susan Benson) at the Stratford Festival,
where she spent several seasons assisting designers Desmond Heeley and Tanya
Moiseiwitsch. She co-created a touring exhibition of the Scenography of Cameron
Porteous, long time Head of Design at the Shaw Festival and is the author of Susan
Benson: Art, Design, Craft published by Firefly Books.
Pat has taught Design for the Theatre at Concordia University in Montreal and has
recently retired as an Associate Professor in the School of English and Theatre Studies
at the University of Guelph.
She worked as a design consultant on both prologue pieces for the Grand River Play
Project in 2022, on Six Nations territory in Ohsweken and in Waterloo and is looking
forward to more adventures as we travel along the length of this beautiful river.