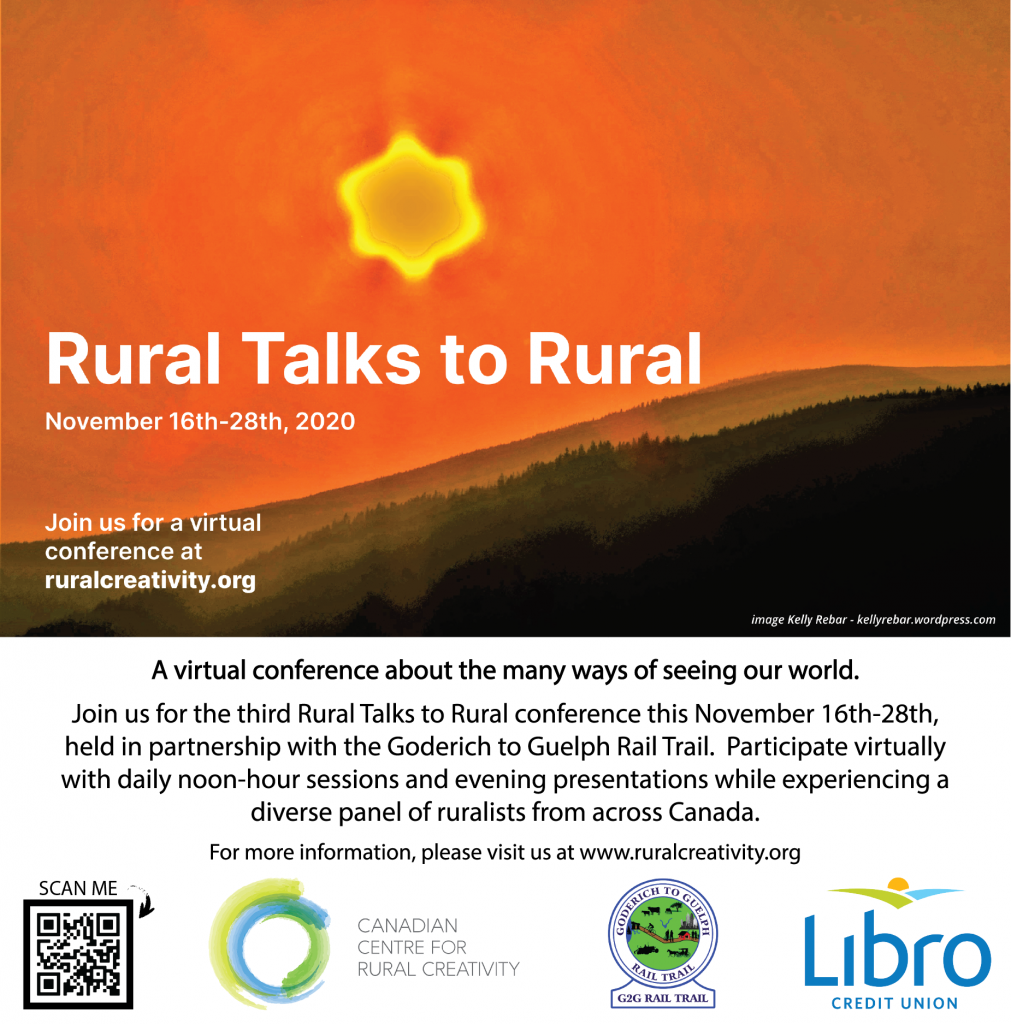 Welcome to Rural Talks to Rural 2020 – a conference about the many ways of seeing our world.
In these times there is reason to take heart, I believe. The more chaotic and complicated the world around us appears the clearer our role becomes at the Canadian Centre for Rural Creativity (CCRC). The more challenges we face, the more we find our purpose in our friendships across many divides. R2R20 will bring people together, once again, from across the County, the Country and beyond our borders. The R2R belief remains – that a good idea in King's County Nova Scotia can be shared and be a good idea in Clinton, Ontario, or in the Qu'appelle Valley in Saskatchewan – or almost anywhere else.
We are pleased to be co-producing R2R20 with our friends at the Goderich to Guelph Rail Trail.
And to have the good folks at Libro Credit Union as our Lead Partner.
The structure over the two weeks runs for an hour at lunch and then picks up for a couple of hours in the evening.
"This Rural Life" is a series of noon hour to 1pm ET discussions/panels with ruralists from across Canada offering their insights as to where we are now, and, as importantly, where we could be going.
And the Evening Panels/Workshops/Keynotes will run between 6.30-8.30-pm ET each day of the week.
LIBRO Saturday, our only weekend date – is on November 28th, the last day of the conference from 9am-2pm. It is a half day devoted to our environment and the ways we can get involved in leaving the campsite better than we found it.
There is lots going on so jump in wherever you like – we look forward to your input and you can drop us an email at any time.
Great to have you and away we go!