Christmas Crafting Weekend 2017
December 1st and 2nd, 2017.

all classes at Blyth Memorial Community Hall, 431 Queen Street, BLYTH, Ontario. N0M 1H0
Create sustainable gift wrap, play with a variety of surface design techniques during open studios or make that special someone on your Christmas list a one-of-a-kind gift by registering for a specific class. Click through the text below the photos to read more indepth descriptions on all of these workshops.


---
FRIDAY, DECEMBER 1, 2017 – 6:30pm – 10pm
Fabric Pine Cones Needle Felting Sock Monkey Open Studio:
REGISTER BY CLICKING THROUGH LINKS IN Dyeing and Printing…
THE TEXT BELOW THE PHOTOS. Gifts and Wrapping…
---
SATURDAY, DECEMBER 2, 2017 – 10am – 5:30pm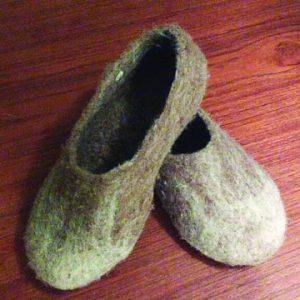 Felted Slippers
REGISTER BY CLICKING THROUGH LINK in TEXT BELOW THE PHOTOS
---
SATURDAY, DECEMBER 2, 2017 – 10am – 1:00pm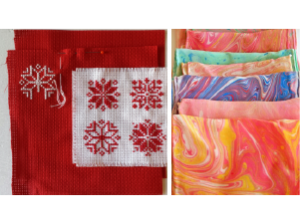 Cross-stitch Snowflake Open Studio
Sampler Dyeing and Printing Gifts
and Wrapping
REGISTER BY CLICKING THROUGH LINK in TEXT BELOW THE PHOTOS
---
SATURDAY, DECEMBER 2, 2017 – 2pm – 5:30pm

Poinsettia Pendant Open Studio
Dyeing and Printing Gifts
and Wrapping
REGISTER BY CLICKING THROUGH LINK in TEXT BELOW THE PHOTOS