R2R'18 – Save the Dates: October 17 – 20
Bringing leading lights from rural communities to share ideas, challenge each other, and partner on initiatives all in answering the question: What do we imagine rural Canada looks like by 2025?
If you have a story or know of someone else's story of rural innovation please contact us by email.
R2R'18 Committee
Wayne Caldwell – University of Guelph
Ryan Gibson – Libro Fellow/University of Guelph
Naomi Finseth – RDI/Brandon University
Bojan Furst – Harris Centre, Newfoundland/Labrador
Al Lauzon – Professor, University of Guelph
Rick Sickinger – Cultural Development Officer
Keith Roulson – Journalist, North Huron Citizen
Peter Smith – Blyth 14/19 Project Director
Karen Stewart – Blyth 14/19 Director of Operations
Watch this site for details of the 2018 conference and dates to be confirmed in fall 2017.
Check out the Video Recaps from R2R16
Information below this line is detail of our 2016 Rural Talks to Rural Conference.
For more archival information check out the links under "Blyth 14/19; events" _________________________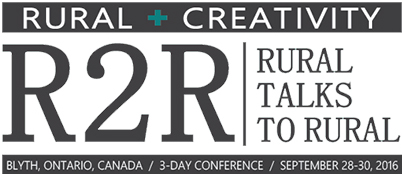 "Tell your story and hear the inspiring stories of others, as we seek to gather solutions for healthy sustainable rural communities." – Keith Roulston, publisher/editor The Rural Voice.
​
Thanks to those who participated in the September 2016 R2R conference.
Watch for dates for the next full Rural Talks Conference in 2018.
CONFERENCE AGENDA
In the autumn of 2016, the Canadian Centre for Rural Creativity in partnership with the County of Huron, invite you to join with creative thinkers and community builders for three days of dialogue, workshops, and exploration. You will be in the company of rural leaders, artists, elected representatives, food producers and distributors, policy researchers and scholars, entrepreneurs and small business owners.
R2R is an invitation to share ideas, establish new partnerships, to network, inform policy, and create innovative strategies for rural health and well-being.
What are your rural challenges? An aging population and youth migration? Reinvigorating the town centre? Job creation? Communications? R2R is your opportunity to connect with creative problem solvers who are making a difference.
Employing the latest technology the symposium will have uplinks for interactive dialogue throughout and be recorded by a professional team of documentary filmmakers for viewing and posterity following the conference.
Our partners:

LOCATION: The largest gathering space will be in a tent located at the Blyth & District Community Centre at 377 Gypsy Lane, Blyth, Ontario N0M 1H0. Breakout sessions will be in the arena, the Trinity Anglican Church Hall and the Royal Canadian Legion. Please dress accordingly with comfortable footwear.
AUDIENCE
Rural Citizens & Community groups; Entrepreneurs & Farmers & Artists; Local Leaders; Provincial & Municipal Staff; Academics.
CONFERENCE FORMAT
Rural Stories
An opportunity for delegates to share their stories and hear the stories of others. It is the beginning of building relationships between delegates – to network, spark connections and gather ideas.
Kitchen Table Conversations
Great ideas often come from around the kitchen table – an informal setting for conversations on rural challenges – success stories will mingle with disaster tales. This will be an opportunity to drill down into each issue and to arrive at possible solutions or refine the questions. Plenary sessions to share highlights will follow.
In Conversation Sessions
With the help of a moderator, real life examples of rural solutions to rural challenges will be discussed to reveal how big notices small, how small works with big, and how work is created.
The Pitch & Catch
This session is about an innovative idea meeting a financial opportunity. Entrepreneurs are invited to pitch their unique idea to a small group of investors.
"Afters" Evenings
A late night opportunity for delegates to connect, exchange ideas, and be entertained in a more relaxed setting.
R2R Pressure Cooker
A think tank will take place in a local kitchen during the conference. Eight delegates will tackle a rural issue and over four hours will come up with an implementable action plan.
HOSPITALITY
An array of accommodation options are available including a limited number of billeted lodgings at local residences for another chance to get to know some of the creators and innovators of Huron County.
Delegates will enjoy world class meals prepared by chefs featuring locally-sourced ingredients.
Registration, Accommodation and other Logistics:
Canadian Centre for Rural Creativity
197 Dinsley St., Box 279
Blyth, ON N0M 1H0
(226) 523-1419
Peter Smith, Project Director, Canadian Centre for Rural Creativity
519.955.4594 | peter@blyth1419.ca
Rick Sickinger, Cultural Development Officer, County of Huron
519.482.5457 ext. 8 | rsickinger@huroncounty.ca
ADDITIONAL READING
Cross-currents: Art + Agriculture Conference (North Carolina 2014 – Report by Peter Smith)
Local Prosperity Conference: New Economies for Rural Canada (Annapolis Royal, Nova Scotia 2015 – Report by Peter Smith)